Courtni Wisenbaker-Scheel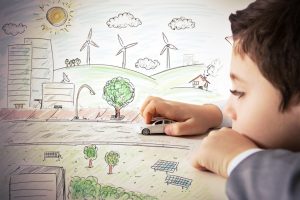 If ever there was a case to be made for converting to solar power, Nevada residents have it made. However, recent changes to the way power companies are allowed to bill their solar customers has made the argument less of a no-brainer. Solar farming—also cited as solar collectives or solar gardens—has the potential to turn that narrative on its head, though, since expenses are able to be shared across all participating members. Whether community-owned or utility-owned, Home Improvement Leads feels like the future of energy will lie within communities.
More Financially Accessible for Every Community Member
Though the average cost of solar power has dropped significantly in the last decade due in large part to the Solar Investment Tax Credit, that doesn't mean that it is a definite renovation option for every homeowner. The average residential solar installation costs roughly $20,000 before any rebates or incentives are applied, and that is simply too great an expense for many people's budgets. Solar communities, however, drastically slash that financial commitment because members only have to purchase specific panels within the co-op, making it a far more feasible option for all homeowners.
Gets Non-Homeowners Involved
Homeowners aren't the only ones interested in going green. Considering that the average American is now renting for more than twice as long as their 1970s counterpart, there is a substantial portion of the population that simply is unable to tap into the benefits of solar power because they do not own a home. With solar farming, though, renters have the opportunity to do just that. Many landlords have also praised the initiative because they are able to market their properties to eco-conscious tenants without the financial obligation of installing solar panels themselves.
Optimize Sun Exposure
By some estimations, 75 percent of American homes are not optimally compatible for solar power. So even though Nevada is ripe with sunny days, that still may not be enough to fully meet a family's energy needs. Solar gardens don't have to worry about maximizing daylight hours, though, because they are constructed in areas that provide unrestricted access to the sun. Plus, fewer panels are needed to generate the same amount of power since they are able to track the sun's arc across the sky versus the stationary nature of a residential roof installed solar system.
Greater Environmental Protection
While financial freedom from the traditional power grid is the main incentive for transitioning to solar for many homeowners, protecting the environment is usually equally as imperative. Reducing carbon emissions is an important part of the battle to save our planet, and The Brattle Group has found that utility-scale solar configurations create almost 50 percent fewer carbon emissions than residential photovoltaics. Solar collective arrays are typically not as grand as an utility array, but they will still do more in reducing greenhouse gases than a residential system ever will. Add to that that many solar gardens are able to repurpose uninhabitable real estate like landfills, too, and solar communities seem to be one of the greenest options out there.
Regardless of whether your desire to go solar is motivated by being eco-conscious, saving money, or somewhere in between, stay locally minded and join a solar collective!